Canoe offer in Olofström
First Hotel Olofström is located 5 minutes from the popular Halen Kanot Center – a perfect destination for the whole family. Discover, experience, and have fun together in a fantastic natural environment filled with a sense of adventure.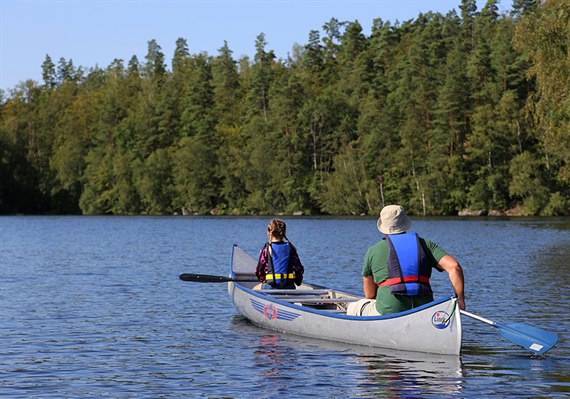 Halen is Blekinge's largest lake and, along with its surroundings, is a major hub for outdoor activities. You'll find plenty of areas for leisurely strolls, scenic trails through forests and fields, along the lake, and picnic spots. Start in the Halen nature reserve and hike down to the lakeshore, where Olofström Canoe Center is located, offering a wide range of paddling opportunities to glide out onto the glistening lake.
In Olofström, you'll find one of Sweden's best outdoor experiences, with long canoe trails, beautiful scenery, and many picnic spots. Paddling can be as peaceful as it is exciting, and the whole family can enjoy the experiences and views.
Ordering and stay period
Halenkanot is open for the season from April 20th to September 30th, 2024.
Other booking conditions
Cancellation
Free cancellation until 4:00 PM the day before arrival. After that, only rebooking is possible. In case of a no-show, 100% of the booking value will be charged.
Book the package
Phone: +46 454 301 230
Email: olofstrom@firsthotels.se
The hotel will book the canoe for you, and a confirmation will be sent to you.
The package includes:
Accommodation
Breakfast buffet at the hotel
Full-day canoe rental (booked through the hotel)
2-course dinner at Steakhouse in Olofström
Free WiFi at the hotel
1 night with dinner and one day of canoeing - SEK 1899 per room
2 nights, one dinner, and one day of canoeing - SEK 2299 per room