Christmas Buffet with Hotel Stay in Örnsköldsvik
Book a magical Christmas buffet experience in Örnsköldsvik with a buffet that goes beyond the ordinary. A large, flavorful, and well-stocked Christmas buffet, mulled wine mingle, overnight stay, breakfast, and free WiFi are included in the package.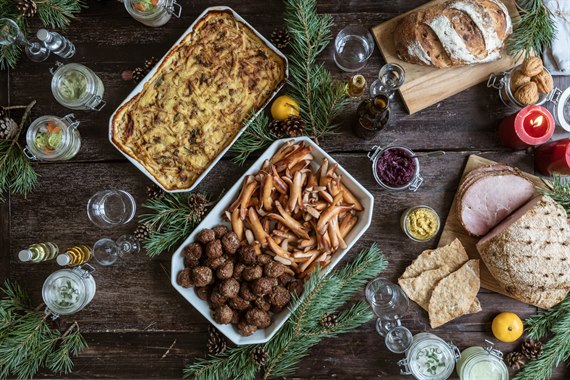 At the historical 110-year anniversary-celebrating First Hotel Statt, we, as usual, set up our grand and popular Christmas buffet in our fantastic City Hotel setting. This year, the Christmas buffet is even bigger and filled with classics, specialties, and a few unexpected surprises.
Start the evening with a mulled wine mingle in the hotel lobby before you sit down ready to enjoy this year's Christmas buffet. You'll find at least eight different herring preparations, salmon, game, sausages, and various cold cuts. The Christmas ham comes, as in previous years, from the quality supplier Diléns. In addition, all the delicious accompaniments like Janssons frestelse, homemade meatballs, and much more. You end the meal with our abundant dessert table. The Christmas buffet also includes vegetarian delights and alternatives.
Ordering and stay period
The package is valid for December 2, 8, 9, 15, and 16.
The package includes:
Accommodation
Magical Christmas buffet
Mulled wine mingle
Breakfast buffet
Free WiFi
Price from 2340 SEK per night for two people.