Luxury Canal Package in Dalsland 7 days
Dalsland's canal is considered one of the most beautiful waterways in Europe. The canal is like a string of pearls of large and small lakes that are connected by about 12km of dug / blasted canal. The canal starts in Köpmannebro and winds through Dalsland, southern Värmland and further into Norway.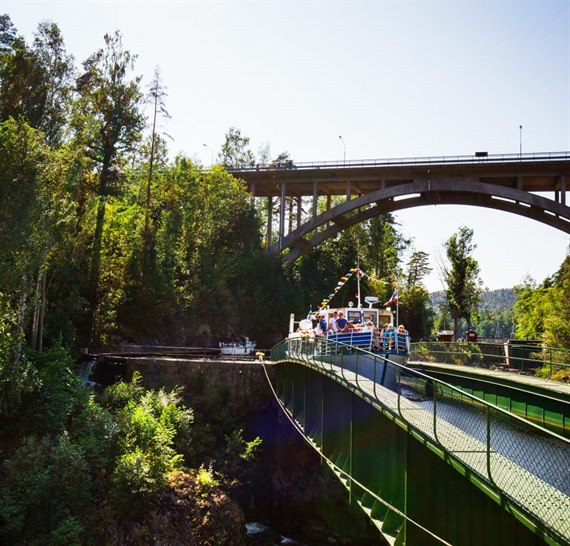 Day 1: Welcome to Dalsland! Check-in at First Hotel Bengtsfors for two nights. Take advantage of the hotel's gym, sauna or outdoor pool (June-Sept) or just sit on the terrace and enjoy the view. A chilled bottle of bubble is waiting for you.
Three-course dinner including wine package (3 glasses).

Day 2: Feel free to take a short hike up to Majberget and enjoy the view of Bengtsfors and Lake Lelången. Up on Majberget are the Nordic region's only Straw museum - Halmens Hus, Gammelgården's open-air museum (with a unique collection of Dalsland buildings) and Cafè. If you want to hike, there is the Lysekärn tour - about 6km or go railbiking on a trolley.
Three-course dinner in the evening.

Day 3:After a good breakfast it is about a 700m walk to the Canal boat. Do not miss the EKA park on the way there. A wonderful trip awaits with a traditional canal boat along the beautiful Dalsland Canal. Departure at 09:50.
The boat trip takes you over beautiful lakes, through the dug canals and in locks. Lunch is served on board while traveling and expect to arrive in Håverud at approx. 14:30.
Håverud is the heart of Dalslands Kanal with the famous aqueduct, where there is also Dalslands center, Dalslands Kanalmuseum, Glashytta Håverud and the Aqueduct shop and Håveruds Rökeri and Brasserie.
From here it is about 600m to Håveruds Hotell.
Check-in and two-course dinner in the evening.
Access to the relaxation area with jacuzzi, sauna, massage chairs (time booked in advance at the hotel).
Day 4: Breakfast is served, and the day is free for your own activities.
Take a walk along Lake Upperudshöljen to Dalslands Art museum and Bonapart café. You can also walk part of the Pilgrim Trail.
Maybe you want to paddle, hike, bike or just enjoy Dalsland.
Dinner on your own.

Day 5: Breakfast and check-out. The train "De Vackra Vyernas Järnväg" (DVVJ) departs at 15:30 (alt. At 18:02) and you are back in Bengtsfors at 16:09 (alt. At 18:35).
Then take the car (private transport can be arranged at an additional cost) to Baldersnäs Herrgård, where you are welcomed with coffee and check into a deluxe room for 2 nights.

Baldersnäs is located on a beautiful peninsula and is surrounded by the English park and by Lake Laxsjön. Enjoy the sauna and maybe take a dip in the lake.
End the day with a five-course dinner including wine package (3 wines).

Day 6: After breakfast we suggest a hike out to the outer part of the peninsula, which is called the End of the World - about 5km.
Bring your picnic and enjoy the peninsula.
End the day with a unique seven-course dinner including wine package (5 wines).

Day 7: Breakfast and departure.
Ordering and stay period
Package available 11th of June to 20th of August
Arrivals on Thursdays or Saturdays
For reservations contact: dalslandspaket@gmail.com
Other booking conditions
Free cancellation no later than 72 hours prior to arrival
This package can also be reserved with start in Håverud or Baldersnäs
The package includes
2 nights - part of DR superior - First Hotel Bengtsfors including breakfast
Access to gym, sauna and outdoor pool (June-Sept)
1 bottle of sparkling wine
2 three-course dinner
1 wine package (3 wines)
Boat trip along the Dalsland Canal including lunch on board
2 nights - part of DR - Håveruds Hotell including breakfast buffet
Access to the Relaxation Department - pre-book at hotel
1 two-course dinner
Train journey DVVJ Håverud - Bengtsfors
2 nights Baldersnäs Deluxe room including breakfast buffet
Welcome coffee
1 five-course dinner incl wine package (3 glasses)
1 seven-course dinner incl. wine package (5 glasses)
Picnic lunch
Sauna & robe
Have you seen our other Canal Package, Classic Tour on Dalsland Canal 3 days?
Price from 11 850 SEK / Superior Double
Also available as a 5 day package with two nights per hotel. Price 5575 SEK